A to Z Anthology
As the Society no longer produces newsletters, we will post occasional items of interest here.
Topics will be chosen at random.
Your contributions are welcome.
M is for Macmillan
Despite falling sales in the early 1960s due to the severe foreign competition, Maling could still attract much praise for its glamorous, albeit cheaper, production lines.
Appreciation can come from many walks of life, but when it arrives in a special letter from a top London address - Admiralty House, Whitehall - you begin to realise the esteem in which Maling was held.
The following is taken from a local press article at the time:
Newcastle councillor Mrs. E. G. Chalk, has had a thank you letter from Lady Dorothy Macmillan, wife of the Prime Minister at Admiralty House, Whitehall. The famous No.10, Downing Street is being rebuilt.
Lady Dorothy was in Newcastle recently to open a Y.W.C.A. appeal bazaar; and was impressed by the Newcastle pottery on sale at the civic stall. Remembering the interest she had shown, Coun. Mrs. Chalk, who was in charge of the stall, decided to send Lady Dorothy a gift as a reminder of her visit.
She chose a vase in shades of red and gold made by C. T. Maling and Sons, at their Ford Pottery in Walker Road, Newcastle, because she thought it a "splendid example of Tyneside creative work and craftsmanship." Now she has received a letter of thanks from Lady Dorothy, in which she says of the vase: "The colours are simply delightful."
For another Prime Ministerial connection see newsletters 42 & 43.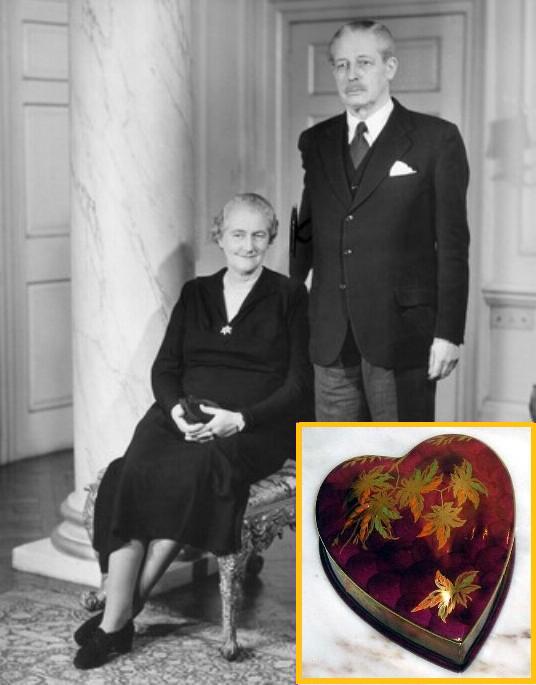 It is believed that a piece of Golden Spray, Ruby Ground was sent to Lady Dorothy. The piece illustrated is not the same one, but shows the pattern,
Want more Alphabet Soup?
Anyone for Second Helpings?
Indulge in our Potage à Trois