A to Z Anthology
As the Society no longer produces newsletters, we will post occasional items of interest here.
Topics will be chosen at random.
Your contributions are welcome.
P is for Printing Plate
A correspondent writes: "I have inherited a copper printing plate, that from my research on the internet, I believe to be by C.T.Maling. As there seem to be many variations on this design, could you suggest how I might establish what the design was called, model number etc, so that I may try to purchase the finished item?"
Without even looking at the photo, we sense bad news coming on. Most Maling printing plates were sold off for their scrap value in 1963. (We know of one survivor, which appears in our video - to the delight of the late Cecil Parker who was chief engraver for many years.)
We can say that this is Willow Pattern, and the size and shape suggest that the transfer was to be applied to an ashet - a term for a large plate, derived from the French "assiette". Maling made them, but so did many others.
A request for more photos turned up a factory mark on the plate. We don't know what it is, but it's not Maling.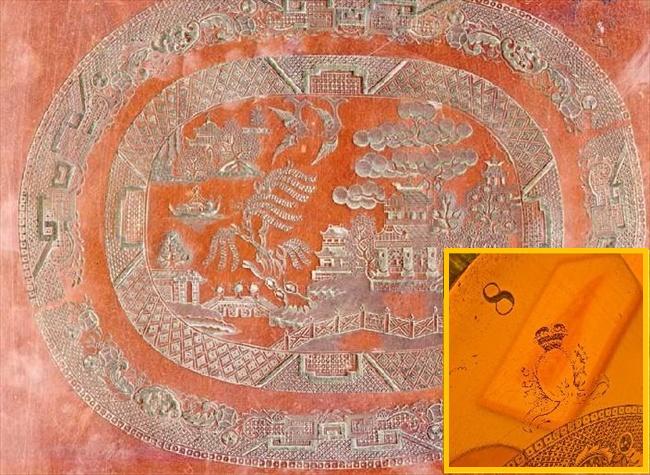 A genuine Maling printing plate appears in our video - see menu.
Do you think we'd be crazy enough to use it one last time?
Only one way to find out...
Want more Alphabet Soup?
Anyone for Second Helpings?
Indulge in our Potage à Trois