A to Z Anthology
As the Society no longer produces newsletters, we will post occasional items of interest here.
Topics will be chosen at random.
Your contributions are welcome.
C is for Cobble(r)s
"Cobblestone" was a popular range of Maling kitchen wares produced in shades of brown, green and blue between 1931 and 1939. The range included not only storage jars but items as diverse as teapots and rolling pins.
This butter dish caught the eye of presenter Tim Wonnacott in a March 2012 edition of the BBC's "Bargain Hunt". Mr Wonnacott (who once described Maling as being famous for "kitchen wares and toilets") decided to consult another "expert" as to value.
We were somewhat surprised that a dealer in kitchenalia had not seen a piece of Cobblestone in 30 years of trading. Even more surprised at a valuation of 400 to 600 GBP. The piece, which was missing its lid or cover, was on offer for a more realistic 12 GBP.
Now do you understand why the society doesn't offer opinions on value?
Feel free to Google the term "cobblers' awls" for further insight into our view of these "experts". We prefer to rely on people - including Maling family members, former employees and our friend and patron Steven Moore, author of "Trademark of Excellence" - who really know their stuff.
The two Davids, who will try to answer your questions, have also picked up a little bit of knowledge during their combined 100+ years on planet Maling. However, this does not include clairvoyance, which is why we ask for photos of any piece on which you have a query.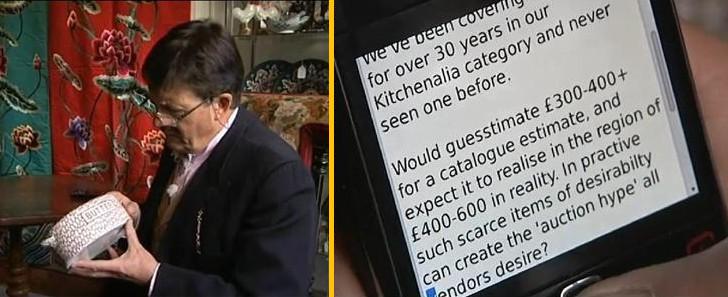 More of the same under "R is for Rare".
Want more Alphabet Soup?
Anyone for Second Helpings?
Indulge in our Potage à Trois