A to Z Anthology
As the Society no longer produces newsletters, we will post occasional items of interest here.
Topics will be chosen at random.
Your contributions are welcome.
M is for Mark
In slang terms, a "mark" is someone who trusts a story which appears plausible but may not be all that it seems. You expected us to talk about a different kind of mark? Read on...
This plate was advertised on eBay as "Chinese style dessert plate by Robert Maling. Has 'M' impressed in back". We weren't convinced by the pattern or marks and asked for more details.
It turned out that the vendor had done his research and relied on Geoffrey A. Godden's Encyclopaedia of British Pottery & Porcelain Marks. However, he had missed an important point. The "M" is listed there, but Godden adds the significant caveat that it is found on "Maling type" ware. (See below.)
"Maling - A Tyneside Pottery" records two similar impressions which are said to be "unidentified marks which might possibly be Maling". On the balance of evidence and experience, we think not.
As an aside, this plate is hand-painted over a single-colour transfer - in this case brown. We associate this technique more with C.T. Maling than with his father, Robert. Maling did not adopt full-colour lithographic printing until c1890. (End of history lesson.)
Our jury delivers more verdicts on puzzling cases in newsletter 33.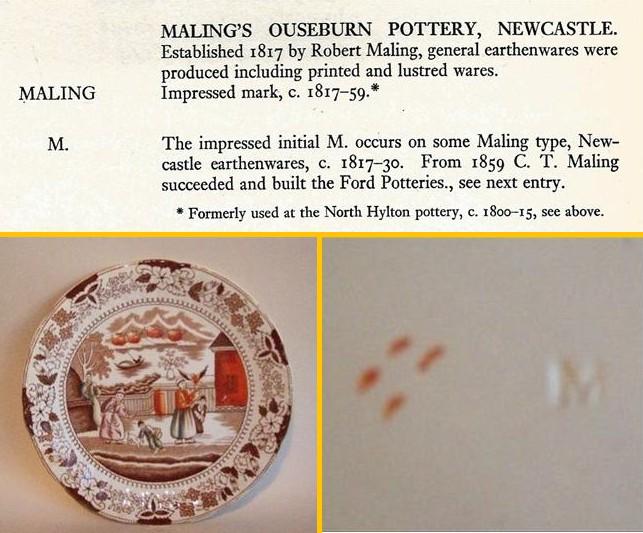 More info on the Factory Marks page.
Want more Alphabet Soup?
Anyone for Second Helpings?
Indulge in our Potage à Trois