A to Z Anthology
As the Society no longer produces newsletters, we will post occasional items of interest here.
Topics will be chosen at random.
Your contributions are welcome.
T is for Teatime
There is a saying in the advertising world:
"If the client moans and sighs,
Make their logo twice the size.
If they still should prove refractory,
Show a picture of the factory.
But, only in the direst cases,
Show a picture of their faces."
To business and, in reverse order... These plates were made for the 1929 NE Coast Exhibition - a celebration of the region's industry and commerce. (Articles in newsletters 20 and onwards.) The most commonly-found examples have a portrait of Newcastle's Lord Mayor and Chairman of the Exhibition Comittee, Sir Arthur Lambert, at the bottom.
Ringtons tea company, with whom Maling had a long relationship, ordered two variations for their own use. This example shows, not exactly a factory, but the company's head office in Algernon Road. The mark does not seem to appear in reference books.
The third version shows - you guessed it - the Ringtons "RT" logo.
TMOE comments: "It is not known why these plaques (i.e. the Ringtons versions) were produced and they appear to be quite rare".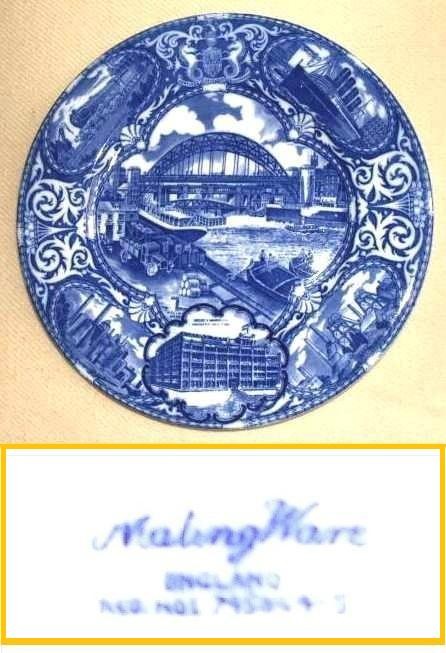 Articles on Ringtons begin in newsletter 41.
Want more Alphabet Soup?
Anyone for Second Helpings?
Indulge in our Potage à Trois