A to Z Anthology
As the Society no longer produces newsletters, we will post occasional items of interest here.
Topics will be chosen at random.
Your contributions are welcome.
C is for Cheap... or Costly?
Part of Maling's success in the late 19th and early 20th centuries was to produce the same items in a range of qualities and prices. The more decoration you wanted, the more you paid. (So "C" is for Choice as well.) You can get an idea from these two plates - c1890/1900. Sorry we couldn't find a matching pair.
On the left you have the cheaper item - a somewhat haphazard decoration cobbled together from bits and pieces cut from a large sheet of transfers. The border is plain brown with no gilding. (Any suggestion of gilt is a result of camera flash.)
To the right, we move upmarket. The hand-painted dragonfly is the mark of designer Charles Miguet - so we know there is experience here. The pattern and layout are more assured, and there is extensive use of gilding. This is the sort of quality which led Maling wares to be sold by Harrods of London.
The price list has nothing to do with the plates, but it shows that items could be produced in many versions.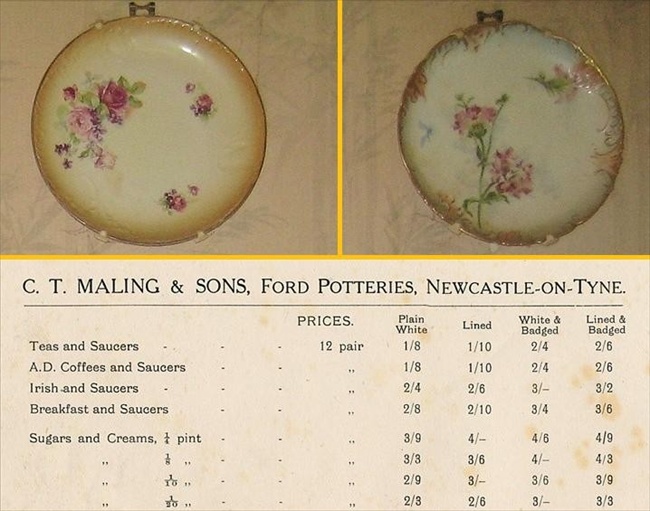 "A cynic is a man who knows the price of everything and the value of nothing." - Oscar Wilde
2/6 is two shillings and sixpence. That's 12.5p in today's money!
For younger readers, there were 12 pennies in a shilling and 20 shillings in a pound.
Want more Alphabet Soup?
Anyone for Second Helpings?
Indulge in our Potage à Trois